Spotlight
Three Big Questions for Microsoft, Activision, and Call of Duty
"This is obviously an extremely exciting day.

At the broadest level, our mission at Microsoft Gaming is to extend the joy and community of gaming to everyone on the planet, billions of people, and this deal accelerates that strategy. When this transaction closes, Microsoft Gaming will be the world's number three gaming company by revenue behind Tencent and Sony.

We believe that Microsoft and our team are uniquely positioned with the technical capability, financial capacity, creative vision and the gaming track record required to deliver a truly global interactive entertainment ecosystem. With this transaction, Activision Blizzard brings into Microsoft Gaming, one of the most exciting collections of content franchises, creative teams and fan bases anywhere in global entertainment across any form of media. Many Activision Blizzard properties, including at King, are truly beloved by people all over the world, and they will endure for many decades to come.

I'll reinforce that this is not about short term results. We have seen Activision Blizzard's product roadmap and are incredibly enthusiastic about what the teams are creating and the company's pipeline over many years to come. We have seen strong recent performance from our exsiting ZeniMax and Xbox Game Studios and are well positioned as the stewards of Activision Blizzard's great franchises.

I'm personally excited for the opportunity to work directly with the dedicated, passionate teams at Call of Duty, Blizzard, King and each if the studios across the company as we reach new heights and even more players together. We're all about putting players at the center of everything we do, and this transaction is going to be fantastic not only for our existing players, but will also help us bring innovative experiences to vast new audiences.

That's because adding the Activision Blizzard portfolio to our existing operations will also propel our new forms of distribution and monetization, like cloud gaming and our Game Pass subscriptions service. Each of these services are helping us reach new audiences, especially as we expand into new geographic markets in mobile-first economies.

Upon close, we will offer as many Activision Blizzard games as we can within Game Pass."

Phil Spencer on the purchase of Activision Blizzard
WoW!
With a two-minute statement and press release from Phil Spencer, the landscape of gaming was changed forever. If Microsoft's announcement to acquire Zenimax in September of 2020 was like a bomb being dropped on the gaming industry, Tuesday's news hit with the impact of an asteroid.
With three billion dollar IPs, approximately 400 million active users across 190 countries, and a leading presence in consoles, PC, and mobile gaming, this purchase is about much more than Xbox versus PlayStation. It's a move that will shake all segments of gaming from the ultra enthusiastic gamer playing World of Warcraft on a $2000 PC, a Game Pass subscription customer playing Call of Duty on their Series Console, to a soccer mom playing Candy Crush on her phone.
As gamers and pundits recognize that Tuesday wasn't a strange dream and recover from the shock of what will be Microsoft's biggest acquisition by far, it's time to start asking questions.
What are the chances of the government's antitrust scrutiny stopping the acquisition from completing? Will Call of Duty be exclusive to Xbox?
What will Microsoft do to change Activision Blizzard's culture?
With the transaction targeted to close by June of 2023, it's going to be some time before we get definite answers regarding the nearly 70 billion reasons this arrangement came to fruition however we already have a lot of information to guide us in evaluating the debris to come from gaming's big bang.
Antitrust?
I would be calling up some antitrust experts because Xbox buying Bethesda and now Activision sure seems like the type of horizontal merging that the DOJ frowns upon

Bloomberg's Jason Schreier
It's predictable that when a two trillion-dollar tech corporation spends nearly 70 billion to buy a major gaming company, there will be disconcerted feelings from some consumers…and a hope that the deal could be stopped. At this stage, the only thing preventing the successful integration of Activision Blizzard into Microsoft would be government intervention due to violations of antitrust laws.
The antitrust process should be celebrated by all consumers as they are there to protect competition, prevent monopolies and ensure that we benefit from the lower prices and better products that come from it. A monopoly is a dominant position in an industry or sector by one company, to the point of excluding all other viable competitors.
So is this a monopoly?
When the transaction closes, Microsoft will become the world's third-largest gaming company by revenue, behind Tencent and Sony.

Phil Spencer
As the fourth line in Microsoft's press release emphasizes their third-place standing within gaming, it's clear that the company is aware that these questions of antitrust would be high on everyone's list. A deal of this magnitude would mean that Microsoft has already explored back channels to ensure that it will pass legal hurdles. Taking the definition of a monopoly at face value, it is impossible for this deal to be viewed as such unless we narrow the focus of competition to a very specific and relatively small area of gaming. But how could you? The gaming industry is growing fast!
As such, new competition is still entering. The bullish outlook from major corporations is causing an influx of investment allowing new development studios to form faster than they are consolidating. Even with this acquisition, Microsoft is 3rd in the console space behind Sony and Nintendo, behind Valve as a PC gaming platform, and well behind Apple in mobile gaming. They'll only account for about 11% of the gaming industry's revenue. As Facebook and Netflix appear next up in terms of large corporations looking to find their own seat, it's clear that there is still much opportunity and growth to look forward to.
Much like the Bethesda acquisition, this acquisition will be "vertical integration" which is what happens when a gaming platform acquires developers. Typically the US government doesn't restrict these types of transactions. If Microsoft were to purchase Sony, Nintendo, Valve, or another platform, that would be considered horizontal integration and would face much higher levels of scrutiny and potentially be stopped over anti-trust laws.
To find an outside chance at antitrust allegations, we would need to narrow the focus to Game Pass, as subscriptions will be a segment that Microsoft is positioned to be dominant in. However looking at other industries for precedents such as with Netflix, we see that market dominance in subscriptions doesn't eliminate competition. Market research suggests much like TV subscriptions, gaming's version won't be a winner-takes-all if multiple subscription options are accessible to consumers. Since the forecast of increased accessibility is what's driving this enormous investment in the first place, there really doesn't appear to be a sturdy antitrust hill for anybody to stand on.
Or as our good friend Jez Corden put it –
Exclusive Duty
It was barely under a year ago that the biggest question regarding the Bethesda acquisition was exclusivity. Prepare yourselves for 2022's version of "you don't spend 7.5 billion to…" become "you don't spend almost 70 billion dollars to…" as we speculate and dissect every executive comment to determine what happens once the deal becomes official.
I'll just say to players out there who are playing Activision Blizzard games on Sony's platform: It's not our intent to pull communities away from that platform and we remained committed to that.

Phil Spencer
Phil Spencer's comments remain vague enough to speculate any number of possibilities however we do have a template from the Zenimax acquisition to start with. When Microsoft completed that deal, they continued to support all existing games that were released or announced for the PlayStation console. There doesn't appear to be a future where Fallout 76 or Elder Scrolls Online will halt content or updates on Sony's platform as long as the developers continue to support those games.
Additionally, we've seen other Microsoft studios make good on previous announcements and released games well after the acquisitions were complete. Just recently Double Fine released Psychonauts 2 on the PlayStation over two years after joining Microsoft.
As such, we should expect Diablo 4 and Overwatch 2 to release on Sony's console as well. Following precedence, Call of Duty's Warzone should continue to have support on all existing platforms in perpetuity.
On the other hand, we should expect the majority of unannounced games to be console exclusive to Xbox platforms just as Bethesda's Starfield will be this fall. The original PlayStation's mascots, Crash Bandicoot and Spyro the Dragon, will likely only be available on platforms that Game Pass is on.
If Tony Hawk or Guitar Hero make a comeback, expect those to be Xbox platform exclusive. Diablo 5? Exclusive. Where things get dicey is when we look at subsequent releases of Call of Duty.
When you spend 70 billion dollars, what do you want to accomplish? Activision makes nearly 2 billion a year from Call of Duty alone. With PlayStation being the market leader, pulling new releases of the behemoth franchise from the platform seems like an incomprehensible amount of lost revenue for even Microsoft. For that reason, it's not outlandish to expect Microsoft to keep the franchise status quo.
70 billion dollar strategic purchases are rarely that simple though. If Activision Blizzard were strictly a financial acquisition, Microsoft's primary objective would be to maximize the return that can be achieved with the purchase and in that case, all Call of Duty games would remain on PlayStation.
This acquisition will make Game Pass one of the most compelling and diverse lineups of gaming content in the industry.

Microsoft's Press Release on the Activision Blizzard Aquisition
Microsoft's leadership has continued to make it clear that their acquisitions of developers are strategic in nature which means it's based on how these companies enhance their long-term business plans. While Game Pass won't be the sole beneficiary of the acquisition, it is their gaming priority as evidenced by Game Pass subscribers making their shortlist of executive goals last year.
Together we will build a future where people can play the games they want, virtually anywhere they want.

Phil Spencer
The purchase of Activision Blizzard was made to proactively bend the market. If their own investors are to believe Microsoft's bold claims that they'll be able to reach gamers regardless of where they're at, then after spending approximately 77 billion dollars over two years primarily on enhancing first-party content, they should expect that Microsoft now has the capabilities to bring those Call of Duty gamers to them.
As such, it's fair to assume at some point in the future, new Call of Duty installments will be exclusive to platforms that Game Pass is available on. If they don't follow through with exclusivity, the reason likely won't be due to the PlayStation revenue but rather fears of damaging the IP while breaking up some sections of the community.
Cleaning Up
When Microsoft purchased Zenimax, the wide consensus was that for Bethesda to be their best self, Microsoft would give them the resources and get out of their way. Activision Blizzard will be different. A more hands-on redirection to reshape the organization's culture and strategies are necessary to reach their potential. Last summer, California sued Activision Blizzard for being a "breeding ground for harassment".
Allegations include sexual harassment, workplace bullying, demeaning behavior, and instances of sexism and racism. Since that time, there have been walkouts by employees and demands for their CEO Bobby Kotick, to step down due to his personal ties of coverup.
We also recognize that after the close, we will have significant work to do in order to continue to build a culture where everyone can do their best work.

Satya Nadella on investor Call
Microsoft's leadership has openly discussed the need to change but obviously, words are only the start. A first glance at Microsoft Gaming's leadership team indicates a different outlook than what Activision Blizzard has been used to with 7 of its 13 members being women and potentially foreshadowing more to come for Activision next year when the deal closes.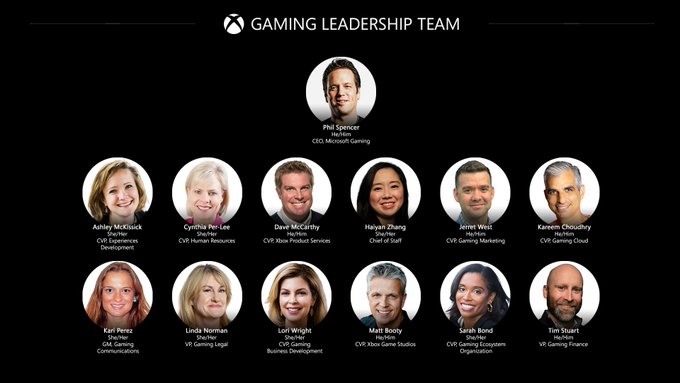 While the toxic work culture will be the priority, Activision Blizzard hasn't exactly been firing on all cylinders from a creative standpoint either. Call of Duty and World of Warcraft were down by a considerable amount from the previous year, falling by 32% and 44%. Activision has struggled to create new franchises, most notably cutting their 10-year agreement with Bungie for Destiny short.
Their demands to increase the cadence of content appear to have damaged Blizzard's reputation for quality. Innovation, diversity, and consistency are not the first things that come to mind for Activision Blizzard and this downturn trend continues while the company has been losing talent and maintains a tarnished brand to make it difficult to recruit their replacements.
When Microsoft takes over, there will be an opportunity to revive dormant IPs, give studios more time, and increase the creative freedom that comes with being part of an organization that will have 32 studios and a Game Pass platform that is hungry for diverse high-quality content.
Unpacking the Rest
So far we've covered some of the most immediate questions regarding the acquisition but as common sense has it, there will be a significant number of conversations to delve into over the coming months and years. Here is a starting look at a laundry list of interesting facts to get some of those conversations started:
Brings Major League Gaming to the Xbox family. In line with a recent push into esports starting with MSN's purchase of smash.gg. Good synergies.
Possibility for IP trade with Zenimax and XGS (Hexen and Heretic back with Roundhouse?)
Brings with it Activision Blizzard Studios, a motion picture production company. "It is co-headed by Stacey Sher and Nick van Dyk, the latter being a former executive of The Walt Disney Company." It was created to utilize its parent company's popular game franchises through films and television shows.
This is the largest acquisition of Microsoft by a large margin. In fact, take away the next biggest from the equation (Linkedin) and this is larger than 12 of the 13 other acquisitions by Microsoft over 1 billion dollars combined (adjusted for inflation)
This move propels Microsoft above Apple to become the third largest company by revenue in gaming.
This move adds 13 studios (in the traditional sense) to the Xbox family, with an approximate 39 teams among them.
Activision was in some regards the first third party.
The rights to the Sierra name and collection of IP (including King's Quest) is included in the deal.
This brings Battle.net into the Xbox family, alongside the Bethesda launcher and Xbox store. It is unknown if this shift will see ABK games return to Steam.
In terms of stated gaps, this acquisition fills the gaps for PC, family, casual/mass appeal and mobile.
Additionally, this expands MS's global footprint with studios in Mexico, Poland, China, Spain, Australia, Ireland, Malta, Taiwan, South Korea and The Netherlands.
ABK has released an average of 4 games per year in the 2020s to date.
To date, Xbox Game Pass has a total of 0 Activision Blizzard games available.
Currently, there are "around 44" unique ABK games available for purchase.
Mike Ybarra and Rod Ferguson both return to Xbox under this move.
CoD is the third best selling franchise of all time behind Mario and Tetris.
In terms of technology, the IW engine (itself based off an older build of Id Tech) and Blizzard's propreitary in-house engines.
Microsoft will serve as Blizzard's fourth parent company over their history.
Spyro and Crash Bandicoot, two former PlayStation mascots created by PlayStation first party studios Insomniac and Naughty Dog respectively are now Xbox first party mascots.
Based on contractual obligations, there is a possibility for Battlefield, Halo and Call of Duty games all day one in some capacity on Game Pass (Battlefield through EA Play Trial)
A leak implied a console port of WoW was imminent back in December.
MS has solidified its strongholds in the RTS, FPS and MMORPG genres with this move.
Additional research: DeoGame