Today Rare held their Sea of Thieves 2022 Preview Event. In this mini-showcase – which lasted 20 minutes – the Twycross development studio revealed their 2022 plans for Sea of Thieves. Last year Rare introduced seasons to Sea of Thieves, which meant the game was updated in a 3 months cadence. Some updates were larger than others, such as the A Pirate's Life update back in June 2021.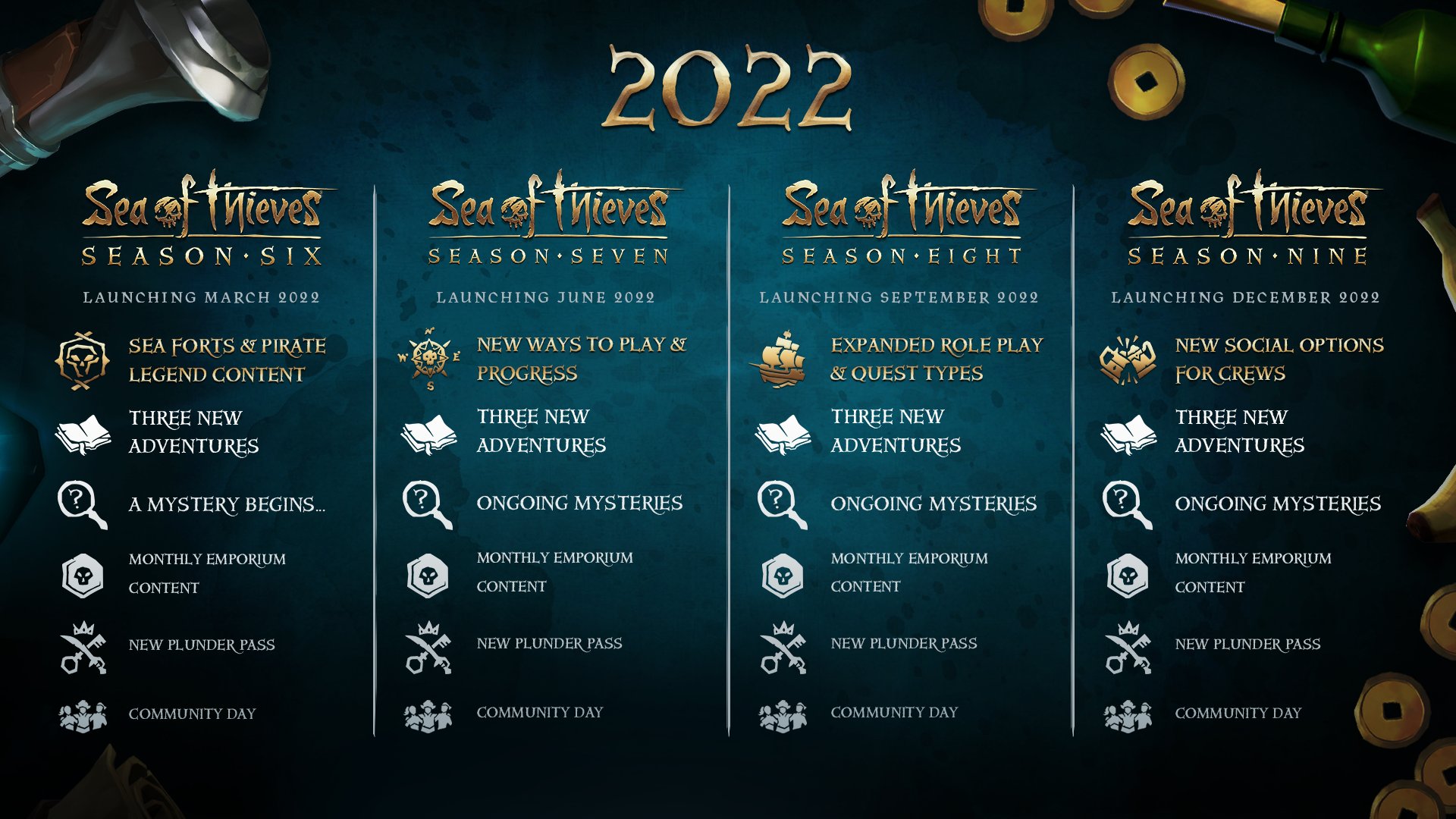 Now, Rare is changing their approach to revealing content. The team has revealed their overall plans for 2022, which includes Season Six, Seven, Eight and Nine. Each season will include three new adventures which will make the Sea of Thieves world more dynamic. Every month a new time-limited narrative driven adventure will release with accompanying cinematics. In the video below you can see the cinematic trailer for the first Sea of Thieves Adventure: Shrouded Islands.
Shrouded Islands is set to release on February 17th.
Alongside Adventures, Sea of Thieves will also have mysteries. These mysteries are filled with riddles and clues both inside and outside the game world. In the first Mystery set out in Sea of Thieves players are going to attempt solving a murder of a famous Sea of Thieves character.
Besides this content, the first Season of 2022 – Season Six – will include the addition of Sea Forts. These are like the skeleton forts which have been part of the game for almost four years now, but are smaller in scale and challenge. You'll be fighting Phantoms who haunt these forts from the Sea of The Damned.
Closing down Arena
Rare has made the decision to close down the Arena mode. Within the next few months the PvP mode will close down, as only 2 percent of all playtime in Sea of Thieves happened in this mode.
"We're proud of what we achieved with Arena, but ultimately it wasn't as successful as we had hoped, and a bespoke competitive mode with few dedicated players is hard to align with our future vision for Sea of Thieves. We want to offer heartfelt thanks to the hardcore Arena communities for their creativity and passion during Arena's run of nearly three years" – Joe Neate