First… some context.
Microsoft Studios launched Crackdown 1 roughly 13 years ago on February 20th 2007. This game was the success story of David Jones, one of the key people behind the first two Grand Theft Auto games and creator of Lemmings. Crackdown was an unexpected success story for Microsoft, a game that funnily enough was mostly bought by Xbox fans because of its inclusion of access to the Halo 3 Beta.
The success of the first game was a mix of an open-world design where the player was free to do whatever they want at their own pace. The moment you were controlling the character, you were fully free to go wherever you want. It was pretty much a well-thought-out sandbox experience and it even got a post-launch DLC package called "Keys to the City". This DLC package adds some sort of developer tools to the game where you can spawn objects/npcs or modify your Agent in terms of strength and agility.
Crackdown eventually got a sequel nearly three years later on July 6th 2010. This sequel was however developed without the input of David Jones and without RealTime Worlds, development studio behind the first Crackdown game. David Jones and RealTime were both quite busy with their project with nearly 100$ million dollar funding, APB: All Points Bulletin. An online game that featured an ongoing war between criminals and law enforcement.
Microsoft partnered up with Ruffian Games, a fairly unknown Scottish studio, to work on Crackdown 2. The sequel got a pretty hectic development cycle as it was rumouredly only worked on for just 8 to 9 months. The game did add some noteworthy stuff like mutants, new vehicles, new weaponry and of course.. more orbs. The sequel was however set in the same map as the original game and was often brought up as "overpriced DLC for Crackdown 1". The game received the Toybox DLC (very similar to the Keys to the City mode) and several smaller-scaled DLC packs after release.
A neat surprise.
After the second game, fans were mostly getting a little bit sceptical on the future of this IP. That changed however when Microsoft teased Crackdown at the Xbox One Reveal event.
It was, however, a year later, at E3 2014, that Microsoft officially unveiled the next Crackdown game. Little info was given alongside this announcement aside from the fact that David Jones would be involved again as the game's director. David Jones also wanted to "revolutionise open-world games" with this sequel. The trailer gave some hints away at the possible direction of the game. Kingpin, a gang leader from the original, is prominently featured in this game.
It was, however, a year later at Gamescom 2015 that we finally saw our first in-game, although still pre-alpha, look at Crackdown 3. The gameplay demo showed fully destructible environments powered by Cloudgine, which is a cloud-focused tech company owned by David Jones. A longer demo showcase was shown behind-closed-doors and some journalists also got a hands-on on a PvP-focused game mode where this tech was used.
This was however not the first Microsoft Studios game that utilized some sort of cloud-powered gameplay elements. The Forza Motorsport series has been using Drivatars ever since FM5 (2013). Drivatars are based on the playstyles of real players. Microsoft Flight Simulator is also powered by the Cloud in combination with Azure AI and Bing Maps.
With the tease in 2013, the announcement in 2014 and the first gameplay demo in 2015, nothing was shown in 2016 which made people a bit sceptical on the development of the game. It certainly didn't help that within the last gameplay demo and the E3 2017 trailer of Crackdown 3, quite a lot of stuff happened within Microsoft Studios. Lionhead being closed, Fable Legends being shutdown, Project Spark being discontinued, the Phantom Dust reboot being put on-hold, Twisted Pixel becoming indie again and Press Play being closed alongside Project Knoxville being shutdown. Of course the cancellation of Scalebound, a big-budget action-RPG made by Platinum Games was the cherry on top of a bad looking series of events for the Microsoft Studios branch.
Finally some Crackdown info.
But at last, Crackdown 3 finally returned at E3 2017 with an explosive gameplay trailer featuring Terry Crews who would be starring Commander Jaxon, one of the agents in Crackdown 3's story.
The trailer featured new agents and a new city called New Providence. E3 2017 put a focus on the single-player campaign for Crackdown 3 while holding off a bit with the cloud-powered online mode. For the first time in four years, Crackdown 3 finally had its first release date of November 11th 2017. This was the same day as the official launch of the Xbox One X.
Alongside the big E3 trailer, there were also quite a lot of hands-on demos for the game during the week of E3. The main takeaway from those demos was that the platforming and combat were improved over the previous games. The world also had more varied enemies ranging from standard enemies, mechs and drones. Orbs were back as well and as satisfying as they have ever been. Visuals and gameplay loop were however brought up as the disappointing factors of the demo. While lightning and texture quality were improved over the past games, geometry remained very simplistic and the main takeaway was that it didn't look up to current-generation standards. After the Gamescom hands-on sessions, the decision was made to delay the game to Mid-2018 to polish the game further.
In January 2018, It was announced that David Jones and his companies, Cloudgine and Reagent Games, would be joining Epic Games. This also meant the official confirmation that David Jones would no longer be involved with Crackdown 3. It still remains unknown whether this departure had a big effect on the cloud-powered mode for the game since Microsoft Studios was bringing up the tech as something that they made fully in-house.
E3 2018 brought two new things to Crackdown 3, a new gameplay trailer and a new delay for the game that pushed the game to February of 2019.
The trailer featured an improved visual quality alongside bright and colourful-looking environments that looked more similar to a Ghost in the Shell or Bladerunner themed game. This was a huge change to the previous two games that had more similar to a modern-day society without the inclusion of neon billboards and sci-fi cars.
The single-player portion of the game looked promising for Crackdown fans. However, there was no sign of the cloud-powered mode in nearly three years. This left quite a bit of concern for those who wanted to see more of this after the Gamescom 2015 showcase demos.
X018: The return of Wrecking Zone.
At X018, we did finally see the first in-game footage of Wrecking Zone. It became pretty evident that the game mode was scaled down from an "open-world" to a more arena-like scale. Wrecking Zone was shown as a 5v5 Player-vs-Player mode featuring Team Deathmatch and a King-of-the-Hill like a mode. Every player could choose between several ultimate abilities and a loadout of weapons.
The multiplayer portion of the game was developed by Ruffian Games and a fairly unknown studio called Elbow Rocket. Rumour was that Ruffian was renamed into Elbow Rocket but since there's nothing officially out yet, I'll mention these two development studios separately.
While the destruction didn't look as advanced as it previoulsy did, the idea of blowing holes into buildings as some sort of escape route sounds more interesting. The main takeaway from general preview impressions was however that the full potential wasn't reached yet and that it wasn't put prominently.
Wrecking Zone eventually had two more technical tests. During those two tests, there was the inclusion of a progression system but it lacked any sort of some party system.
It's been a while… Crackdown 3's Launch and critical reception.
February 15th, 2019. Crackdown 3 finally releases on Xbox One and Windows 10. It's inclusion of launching day-one on Xbox Game Pass did help the game's population.
The game was met with very mixed reviews. A majority of reviewers were calling the game out for an aged formula, average visuals and overall being too similar to past Crackdown games. Wrecking Zone was the game mode that got criticized the most for being too stale and not having any depth in terms of game modes and overall gameplay. The game is currently sitting at a 60 Metacritic Score and a 63 Opencritic score with a 19% recommendation score from critics.
Repetitive and middling, Crackdown 3 is a totally average open-world game that doesn't give itself a way to stand out.

PCGamer: https://www.pcgamer.com/crackdown-3-review/
Crackdown 3 is bonkers chaotic fun but also a case of wasted potential. The series deserved an iterative revival but instead, we have the tried-and-tested Crackdown backbone with remastered visuals and a touch more chaos, sadly squandering the promise of its few interesting additions in the process

GamesRadar+: https://www.gamesradar.com/crackdown-3-review/
Crackdown 3 isn't an instant hit, but after a slow start, it rapidly builds into an action-packed shooter with brilliant character control and movement. While orb collecting is the key for prolonged play, the campaign in Crackdown 3 is always entertaining and visually there's a lot to appreciate if you look at the bigger picture.

USGamer: https://www.usgamer.net/articles/crackdown-3-review-15-02-2019
While there's no sales info out there on how "well" the game did, it does seem pretty clear that Game Pass helped out on getting more people to try the game out. According to TrueAchievements, the game's campaign mode ranked third place just behind Apex Legends, which had just launched, and Fortnite which was starting to become a worldwide phenomenon.
What changed?
Note: that this section of the article is mostly based on speculation and less on info that we know about aside from concept arts and rendered images found on ArtStation. It's also obvious that early concepts also have a big chance of not getting used at all and aren't representative of what could've been the final product.
Looking at most of the concept arts and in-game renders on Artstation, I feel like the original project might've been a re-imagining of the original Crackdown game. As you might know the original Crackdown featured three factions: Los Muertos, a gang of Central-American drug leaders, the Volk, a hardened militia from Eastern Europe, and Shai-Gen, a more Asian-focused faction that is the final faction to beat for many Crackdown players.
It could be purely coincidental that a lot of the early concepts for Crackdown 3 have similar themes in comparison to those three factions. The inclusion of a Los Muertos gang leader in the original E3 2014 trailer is putting more weight to that IMO. Especially since I can't find any early concepts that represent the Volk faction in any shape or form.
Gameplay-wise, there's also a mention of some sort of Agency Super Carrier. This could've been some sort of base of operations. In the final product, there is however some sort of Agency aircraft that is only shown in the intro cutscene.
Not done yet.
Many would assume that this would be the end of the Crackdown 3 story but we're not done yet. The team responsible for Crackdown 3 at the Global Publishing team started a series of YouTube videos to keep the community up-to-date on what was coming next for Crackdown 3. Party support for Wrecking Zone eventually came out sometime in March which gave the community a bump in population.
As a Crackdown tradition, Keys to the City had to return in some sort of form. On the 30th of May, Crackdown 3 got a big, free update containing the Keys to the City mode and also a full-fledged progression system to the Wrecking Zone component that included cosmetics for all agents. This gave the community a little population bump.
In June, Crackdown 3 got its second big update called "Flying High". This DLC package included the glider suit from Crackdown 2, gliding challenges, new weaponry such as big mauls with elemental attacks, the ability to call in air-strikes and calling in the militia.
All updates were free and felt like the development team really wanted to make Crackdown 3 the best-playing Crackdown game out of all three installments. IMO they really nailed that and I think it's quite hard to go back to something like Crackdown 1 after the platforming upgrades, such as the triple-jump, in Crackdown 3.
So what's after Crackdown 3?
Ironically enough, the franchise is currently back at a similar point where Crackdown 2 ended at. Microsoft's Matt Booty did bring up the fact that they want this franchise to continue as one of their ongoing franchises.
What I'm saying is we want a game to have the potential to give birth to a world that could expand, create characters that could have multiple iterations. We want that depth and that richness that could go on and do other things. We've just got to make sure that we give our games enough time to do that.

Matt Booty speaking to Polygon about the delay: https://www.polygon.com/e3/2018/6/11/17451396/crackdown-3-delay-explained-microsoft-xbox-interview-e3
The idea of continuing this franchise after the critical reception might make it more tricky to greenlit a sequel. Considering critics weren't too happy with the sequel being very similar to the previous two Xbox 360 games, they'd want to make sure that they find a pitch that is iterative on the core foundation of Crackdown's gameplay loop.
A different question could be, who would be developing a new Crackdown game?
I definitely think that Sumo Digital, the developers of the single-player campaign for Crackdown 3, have a solid chance with of course the right pitch. They are able to maintain quite a lot of projects all at once.
With the solid relationship between Xbox and Avalanche Studios, developers of the Just Cause games and recently Rage 2, I definitely think that they would make a solid guess for the developer behind a potential Crackdown 4. They are known for mostly "explosive" open-world games an with the right direction from the people over at Global Publishing, this could be a return to greatness for the IP.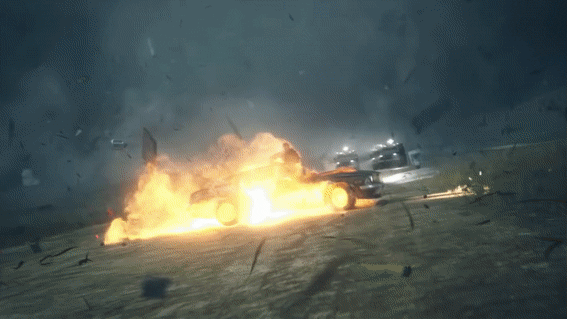 But of course, that's just something that I'm speculating about as someone who would love to see a sequel to this series. Crackdown 3, even with its critically average reception, remains one of my favourite games of 2019.
The combination of a really cool looking art direction, great music composed by Finishing Move (who also worked on the Halo 2 Anniversary remixes), well-done platforming and a tightly-paced campaign. I totally get the critiques for the game and I'm hoping that in some shape or form, the core concept of power-levelling and orb-hunting gets used in some sort of other game in the future.
Now… I still need to get all the orbs…